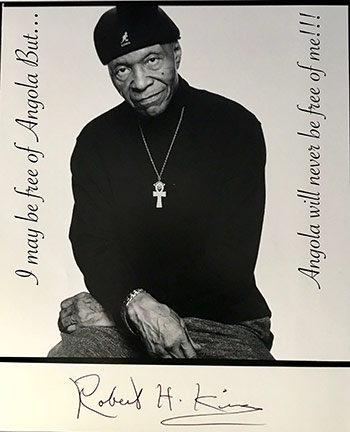 My name is Robert H. King A.K.A Robert King Wilkerson, and I was the first freed member of the group which became known as the Angola-3. I was confined to the Louisiana State Prison for 31 years, 29 years of it in Solitary Confinement and released on February 8, 2001. Since my release, I have been referred to as an Author, a Candymaker, a Former Political Prisoner, and an Activist, but I see myself as just being a regular person, trying to make a difference AND ...
The big difference came upon the release of my comrades. Herman Wallace, who was released after more than 41 years on October 1, 2013. Two days after his release, Herman passed away.
Albert Woodfox was held nearly 44 years in Solitary Confinement. He was released on February 19, 2016.
Like Myself, since Albert's release, it has also been his focus to campaign against abuse in the CRIMINAL justice system. Thus, the quest that began with Herman Wallace, Albert Woodfox, and Myself, to free ourselves, and to subsequently free other political prisoners continues...